HCHS girls, Lunsford take top spots in SEKC meet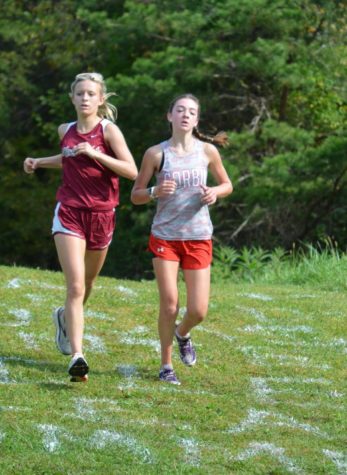 The Harlan County girls team and freshman Peyton Lunsford swept the top two spots Tuesday in the Southeastern Kentucky Conference cross country meet at Bell County High School.
Lunsford won the individual title with a run of 23:30.44, a little over a minute ahead of Williamsburg junior Heaven Warren. Several other HCHS girls were near the top, including seventh-grader Kendall Brock in fourth and senior Riley Key in fifth. Sophie Day placed eighth, followed by Leah Taulbee (10th place), Summer Farley (11th), Aliyah Deleon (12th) and Olivia Kelly (13th).
Mia Pace, a junior, led Harlan as she placed sixth. Abbigaile Jones was 15th.
Brock, Day, Taulbee and Key were named to the ALL-SEKC team from HCHS. Harlan County finished with 26 points, ahead of Williamsburg with 50 points and Bell County with 56.
"I'm so proud of these girls tonight. They were really focused coming into this race and they ran well as a team. It was a total team effort," Harlan County coach Ryan Vitatoe said. "I'm proud of Peyton. What a great accomplishment for her. She was in total control from start to finish and was poised. That says a lot about her growth. I'm proud of Sophie and Kendall. To be on the ALL-SEKC team as middle school competitors is quite impressive. They all ran so well. Our seniors set the tone, and everyone did their job. It's a good step heading into region week. For Riley and Leah to go out as a senior as ALL-SEKC is a big deal. I'm really proud of them."
Bell County junior Caden Miracle won the boys race with a time of 16:55.88 and led the Bobcats to the team title with 31 points. Harlan County was second with 41 and Williamsburg placed third with 46.
"The boys ran well tonight," Vitatoe said. "I knew the margin for error would be razor-thin in a meet this size. One bad race by any kid on any team, or a breakout race can swing results quickly. When you consider the size of the meet and the fact you had two AA top 10 teams, and a top 15 A team, this was quite a solid field. I'm proud of them. I know they are disappointed finishing second, but this is a group who will learn from it and get better."
Daniel Joseph, a senior, led Harlan County as he placed second. Matt Yeary and Andrew Yeary placed seventh and eighth, respectively. Eighth-grader Dylan Cox led Harlan as he placed 11th. Harlan County's Kaden Boggs rounded out the top 15.
Joseph, Matt Yeary and Andrew Yeary made the All-SEKC team.
"I'm proud of Daniel. He quietly gets better and better each meet," Vitatoe said. "Matt had a good race and Andrew had a breakout race tonight. I'm happy for them to make ALL-SEKC."
The Bears return to action Oct. 23 in the regional meet at Wayne County High School.