Family, friends are what make me an Appalachian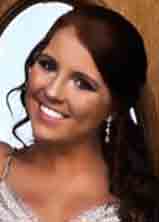 What makes me Appalachian?
This is a very difficult question for me because there are lots of things that make me who I am today, including Appalachia.
Appalachian is a small town get together on events.
Appalachian is stopping or pulling off on the road to show respect for a funeral.
Appalachian is a lot of things, but I could never narrow down to what truly makes me Appalachian.
When people think of Appalachian people they think of rednecks, alcoholics, etc… People who judge us, don't even know us. I am truly blessed to come from where I come from because I was taught the true meaning of life by everyone around me growing up.
Everyone in my small town has everyone's back. You don't see that much in big cities. I will be leaving for college next fall and moving into a much bigger town than where I am now.
How I will contribute to diversity on my campus will be simply to help others around me and be kind. I was taught to help anyone around me struggling, whether that be tutoring, helping study, or even helping carry in groceries. I will always do all that I can to make sure the people around me are having a good day and feel welcome.
I'm not saying that growing up in a small Appalachian town wasn't hard, because it was. There are limited places to eat, barely any stores to buy things from also. If my family ever needed something, we would have to travel about an hour.
I love my little small town though. I know everyone in it, which is a big plus because sometimes it's hard to meet a lot of new people every day.
But if I had to answer what truly makes me Appalachian, it would be the people who are in my life every single day. My parents, my teachers, my friends, they push me every day and make me a better person. Everyone in my life made me who I am today, so if I am put into the category of Appalachian people, which I am, and I get asked what makes me truly be Appalachian, my answer is my people.
(Editor's note: Jacey Lewis is a student in Tami Brock's English 102 class at Harlan County High School and wrote this essay on growing up in Appalachia as part of a class project)